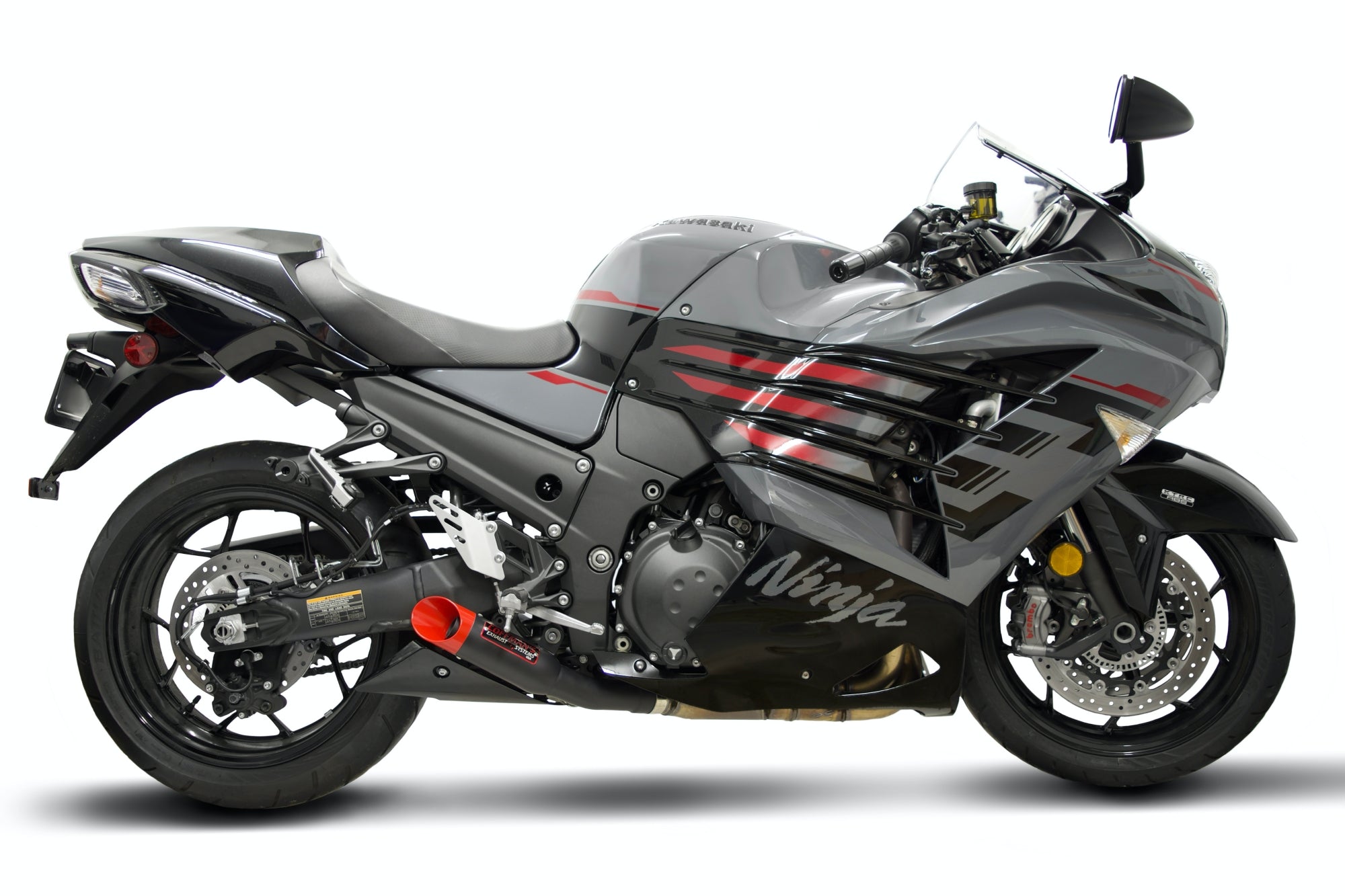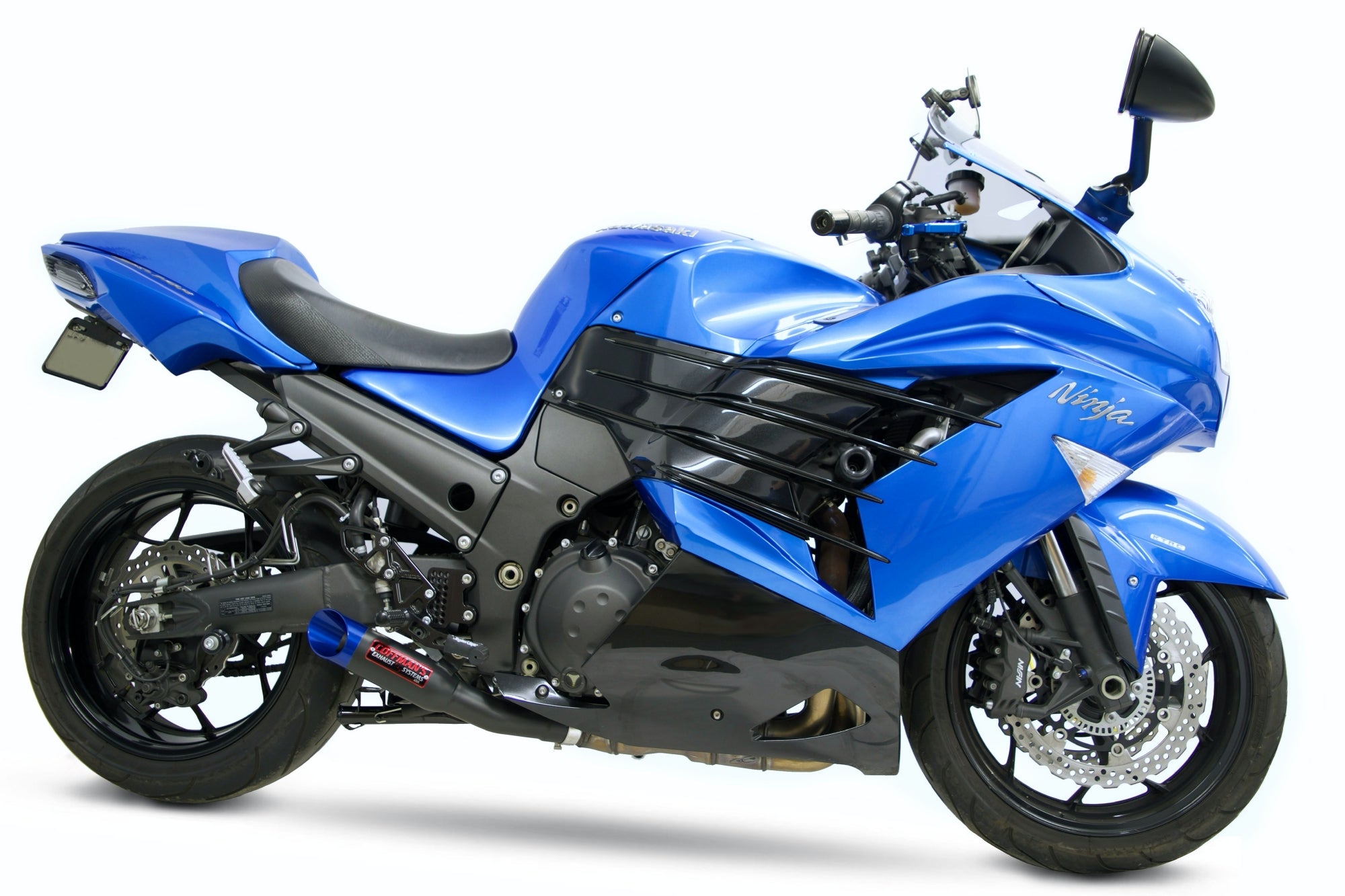 Coffman's Kawasaki ZX14 (2012-2023) Dual Shorty Exhausts
Pickup available at 181 Wabash Avenue
Usually ready in 24 hours
Coffman's Kawasaki ZX14 (2012-2023) Dual Shorty Exhausts
Black
181 Wabash Avenue
Pickup available, usually ready in 24 hours
181 Wabash Avenue
Ukiah CA 95482
United States
7074627881
22 Ninja ZX14R. Great sound! Red tips really pop on the bike.
I've had these for over 90 days. Install only took a few minutes and was spot on. The kickstand comes close to tapping the left can, but not quite. The sound is just right with the baffles in. I can't imagine how loud they would be without them. Running stock ECU, so they are a little rough on light throttle, but I'm getting a reflash. Will update
with terrific customer service during the ordering process
Very well constructed pipes, with terrific customer service during the ordering process. However, the fit on the left side was/is such that the kickstand on my ZX14R (2012) marred the finish on the pipe, despite all attempts to keep some clearance, including filing the kickstand.
Easy Install
I purchased the Coffman Shorty Exhaust for my 2020 Kawasaki ZX14r. The install
was simple and easy. The pipes transform the look of the bike and the sound is
aggressive.
Fantastic exhaust note on the 2015 ZX-14R
These things make for a fantastic exhaust note on my 2015 ZX-14R. It went from sounding like a sewing machine with the gigantic stock mufflers to sounding like you expect a 1,400 cc sportbike to sound. At idle and low RPM's, with the silencer insert on, it won't wake the neighbors. Get it past 5k RPMs and it howls like a banshee. You don't realize how much the exhaust note of a bike colors your perception of that motorcycle until you hear what it sounds like with a good exhaust system on it. The one that comes stock should be a crime.The build quality on these things is outstanding, and whoever welds these really knows what they're doing - perfect beads all around. I was a little hesitant at the cost for such a small bit of pipe, but six months of daily riding later, I would buy them again in a heartbeat.One important note - you will need to unbolt the kickstand and put the included washers between the frame and the kickstand or the kickstand will not clear the muffler. A little locktite and a torque wrench later, it has perfect clearance. It's a bit of a pain, but it would be low-level misery for a long time if you don't. It took me all of ten minutes, so it's really not too bad. Make sure you have a rear stand or a friend with a steady set of hands to hold the bike upright.
Very impressed
I love it, just love it. This exhaust system lets out a fantastic sound note which matches the bike's character. Not too loud, but loud enough to be heard. I installed it last night, took it for a spin today and immediately discovered that people notice the bike 100% more than before. I had 3 compliments in about an 1hr of riding.ADVICE: The installation itself is not hard, but here is some advice1 - Allow a good 2-3 hrs to remove the stock pipes and install these (especially if you have never done anything like this).2 - The left exhaust is harder to install than the right one because the kickstand and shift levers are in the way.3 - Make sure you have all the tools and equipment BEFORE you begin to include: A rivet gun, a drill with a 9/64 inch bit for metal, a wrench with 10, 12mm and 14mm sockets, a motorcycle lift/stand,a set of good allen keys and a torque wrench.4 - You will have to loosen the kickstand and remove one of the bolts holding it to the frame to install washers. These washers are designed to tilt the kickstand away form the exhaust. 2 washers were enough to prevent the the kickstand from hitting the exhaust pipe.. If you use too many washers, the kickstand sticks out beyond the peg and you don't want that. I actually had to remove the shift lever to allow enough room for my wrench to access the left kickstand bolts.CONS:1 - There is some amount of backfiring when decelerating.2 - My fuel consumption increased drastically, I mean drastically. Fuel mapping and tuning is required no matter what others say.All in all, the average person should be able to complete this. I'll let you judge as to the appearance of the pipes, but I am happy with them. They have a deep throaty sound that finally matches the bike's performance and looks.
Kawasaki ZX14 (2012-2023) Stainless Steel Ceramic-Coated Black Twin ZX14 Shorty Exhausts.
Made in the U.S.A.
Preinstalled removable CNC machined db-killer (baffle) retained inside the tip through the highest quality high-temp silicone O-Ring, spacer, and snap-ring.
Includes a large perforated core encompassed by replaceable packing assisting in heat management and sound suppression.
All pipes are manufactured from 304 stainless steel tubing that is CNC machined, mandrel bent then tig welded to perfection.
Designed to fit stock applications to wide tired to stretched swing arm applications. They then have a machined angled cut billet aluminum tip anodized with an array of colors ranging from ceramic red, black, gold or blue. Polished aluminum is also available on the tip.
This tip can be rotated to suit your desired appearance.